How to Spruce Up Your Kitchen on a Budget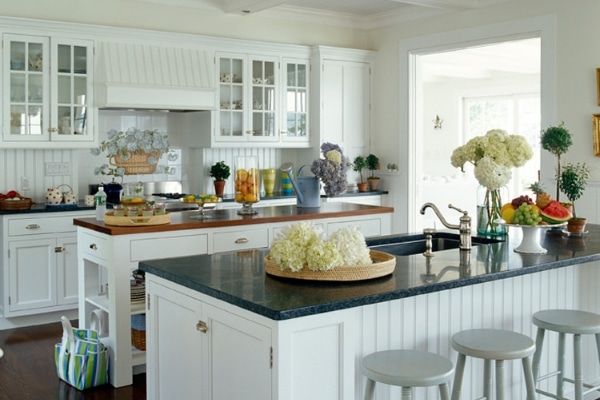 The kitchen is currently thought of as the heart of the home. Many prospective home buyers make this their first stop when they check out a home, so make sure your kitchen looks clean and updated.
4 TIPS TO PREP YOUR KITCHEN FOR YOUR HOME SALE:
Get it cleaned. Having a pro completely clean your kitchen is one of the best investments you can make when prepping your home to sell. Yes, you could clean it yourself, but would it definitely look as good? A sparkling-clean kitchen is one that looks its best. Clean the kitchen windows, inside and out. If you have heavy window coverings, consider removing them—or at the very least, make sure window coverings are completely open when you show your home.
Add colorful décor. You can also use fresh flowers or greenery in your kitchen preparation. A fresh fruit bowl, freshly cut flowers, branches or potted herbs will bring life and cheer to your kitchen.
Organize cabinets and cupboards. Potential buyers will be looking into your cupboards. And if your cupboards are overstuffed, that gives the perception that there isn't sufficient storage space in your kitchen. Remove extra stuff, including anything that simply does not look great. If you still have to use these things, keep them in a box covered on a high shelf in a closet during showings.
Make a modest upgrade. The quickest, most affordable kitchen updates consist of painting and new cabinet hardware. Use neutral-color paint so you can offer buyers with a blank canvas where they can begin visualizing their own style. If you have small money to spend, purchase one fancy stainless steel appliance. Why one? Because when folks see one high-end appliance they think all the rest are pricey too and it upgrades the kitchen. Also, a fairly, gleaming faucet makes a good impression. And make sure to repair any leaks while you're at it.
To completely gut and redo a kitchen costs thousands and thousands of dollars. However, if you follow these 4 easy steps, you can make your kitchen sell, and even save a few bucks at the same time!