Real Estate has been my profession for over 15 years. I enjoy connecting people and places. I have been involved in real estate entrepreneurially from business start-ups, acquisitions, sales, development, finance, legal, and property management. I am a licensed Real Estate Broker in California, Wisconsin, and Realtor® in Illinois and can help you find a Realtor® in any city in the United States. 
I am a Realtor® and a certified Ninja® Selling Specialist. I earned my undergraduate degree from California State University, San Marcos with a dual major in Sociology & Communication. As a Certified Life Coach, during a transaction I use my coaching skills to make sure the transaction is managed smoothly. Additionally, I graduated from Dr. Henry Cloud & Dr. John Townsend's Life Coach Experience and Life. 
I own and operate my coaching practice and I am also the founding partner of Project Seed Money LLC, helping women in business and reside in beautiful Pauma Valley of North San Diego County. Vince has been the love of my life since 2009. Together we have a spunky red-headed daughter. When I married Vince, I became a step-mother of two daughters. Our oldest, and her husband, made us grandparents in 2019. I love reading and writing and volunteering in ministry work.
Broadpoint Properties Blog
Helpful Real Estate Insights from the Pros
Broadpoint
Properties Blog
Helpful Real Estate Insights from the Pros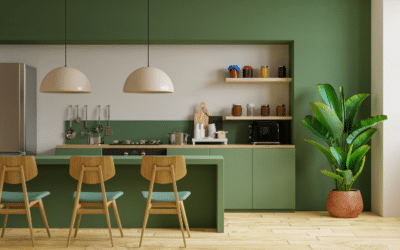 You've seen it all over this year — green is said to be the "it" color of 2022. If you're feeling a bit playful and thinking of refreshing your kitchen cabinets, green is a good color to consider. Designers love playing with this versatile color and here's proof....
read more
Sign Up For Property & Market Updates