I was blessed to be born and raised in San Diego, where I attended high school at the San Dieguito Academy in Encinitas. From there, I went on to Embry-Riddle Aeronautical University in Prescott, AZ, where I majored in Aeronautical Science and minored in Military Leadership. I received an Air Force ROTC scholarship and I was the first person in my family to attend a university.
Growing up, I was taught to give back to a community that has given me so much. I volunteered at the Encinitas Community Resource Center, taught confirmation classes at St. John the Evangelist Church, and helped at Habitat for Humanity. I also had the distinct pleasure of participating in the Youth Tobacco Prevention Corps where we lobbied for smoke-free beaches and parks in Encinitas, Del Mar, and Solana Beach.
I enjoy working on cars. I currently have a Mustang '66 coupe that I am restoring and modifying. One of my other passions is music; I play guitar but my strength is the bass. I play all rhythms from Latin to blues and rock. The outdoors is my escape and I have explored the beautiful backcountry of our county. Since I was born in a coastal community, I can't forget to note the beach and ocean. I enjoy fishing both saltwater and freshwater.
Honor, duty, and integrity are some of the morals instilled by my parents. These were reinforced by my time in the Cadet Corps. "A cadet will not lie, cheat, steal, or tolerate those who do." This is a code I have tried to live by. Not only am I passionate about my career helping buyers and sellers, I am determined to represent my clients with their best interest in mind and help them achieve their real estate goals.
Hear what our clients are saying.
"Jesse not only guided me through the sales process with confidence and ease but also served as a mentor with regards to the ideal house for my situation. Taking into consideration the work I was in, lifestyle and where I was in my current personal state of life, Jesse worked on many homes with me to find the right fit! His responsiveness is second to none…I honestly felt like I was his only customer (although I know I wasn't)! This also isn't my first time buying, Jesse just made it feel like I was based on how much I learned working with him. He has me and my family as a customer as long as he is in the business."
— Abel Gutierrez
"Jesse was so great to work with! My husband and I had no problem selling and buying our new house. With Jesse we were always updated and understanding of every step in the escrow process. We have already referred a family friend to Jesse and they are currently looking for houses. We are truly grateful we got to work with such a friendly and smart realtor!"
— Leesa Sarabia
Broadpoint Properties Blog
Helpful Real Estate Insights from the Pros
Broadpoint
Properties Blog
Helpful Real Estate Insights from the Pros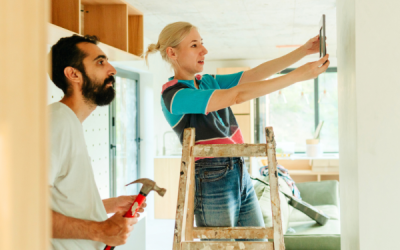 A drill, orbital sander and the likes are great power tools to have at home for repairs and home improvement projects. But not everyone has access to these power tools. Good news, not all DIY home projects require power tools. These projects can be rewarding...
read more
Sign Up For Property & Market Updates