Javier Zavala is one of the most dedicated real estate agents in the nation. He is an active member of the National Association of REALTORS®, the California Association of REALTORS®, the National Association of Hispanic Real Estate Professionals, and the San Diego County Hispanic Chamber of Commerce.
In addition to English, Javier is fluent in Spanish and is an active member of the Hispanic community. Javier's 30+ years of experience in customer service, sales, and marketing are what qualify him to provide you with top-notch service.

Javier's dedication to the real estate field has lead to numerous local, state, and national awards. Most recently, in 2014, Javier was named one of the top Hispanic real estate professionals in the United States. For the last several years, he has also been awarded with a Circle of Excellence Award from San Diego Association of Realtors®—an award that honors the top 5 percent of all Realtors®.
Javier lives in Carlsbad with his wife, Melissa. In his spare time, he likes to hang out with his grown children, fix cars, play golf and basketball, and attend Chargers and Padres games.
If your immediate future requires counseling in the purchase or sale of real estate, feel free to contact Javier and his team!
Hear what our clients are saying.
"The team at Broadpoint properties is as good as it gets. Melissa and Javier are leaders in their community. They are very knowledgeable and always willing to share their experience with others. Melissa is a ball of energy and knows how to get things done. She is who you call when you want the best most up to date real estate related information. She will be more than happy to counsel you so you make the right decision for you and your family. Javier is very active and respected in the Real Estate community. He knows exactly what to do to get your home sold as quickly as possible and for top dollar. I have seen him prove this over and over again. Most of all they are wonderful, kind and caring people. They will make you feel comfortable and walk you through the Home Selling process. They are a fantastic group with an amazing team behind them. Give them a call you won't be disappointed."
- Stephanie B.
"Javier, Melissa and their team of professionals are great--knowledgeable, hard working and friendly. I love working with them!"
- Rob Klein
"Short sale closed in under 30 days! Enough said!"
- Frank J.
Broadpoint Properties Blog
Helpful Real Estate Insights from the Pros
Broadpoint
Properties Blog
Helpful Real Estate Insights from the Pros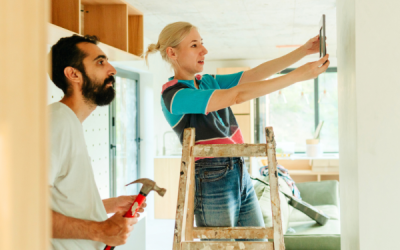 A drill, orbital sander and the likes are great power tools to have at home for repairs and home improvement projects. But not everyone has access to these power tools. Good news, not all DIY home projects require power tools. These projects can be rewarding...
read more
Sign Up For Property & Market Updates