Dixie is an integral part of the Broadpoint Properties team and is one of the most dedicated and committed morale officers in San Diego County. If you are looking for attention, cuddles, a lick on the nose, or a quick game of fetch, Dixie can provide them all.
Born and raised in San Diego County, Dixie knows the value of hard work and dedication. She played a vital role in the upbringing of her two human brothers, who are now all grown up, and she enjoys providing support and helping to diminish stress as needed during your real estate transaction.  
Dixie's in-depth education includes obedience and behavioral training, which have cemented her social skills, easy-going attitude, and positive nature among humans and other animals. "We are so lucky to have Dixie as our CMO," says Administrator Rachel Tourtillotte.
"Dixie's loving personality and cheerful attitude make our customers' and clients' experiences more pleasant." 
In her spare time, Dixie enjoys playing fetch, swimming in the family pool, going on long walks, and eating chicharrones with her abuela. 
If you are interested in stopping by to say hello to Dixie, she is usually in the office Monday through Thursday, with a lunch break around noon. You can also follow her exploits on the Broadpoint Properties Instagram page (@Broadpointproperties).
Hear what our clients are saying.
"Dixie is the first face you see when you walk into Broadpoint Properties. She is the sweetest little greeter and always makes you feel welcomed. Thanks to Dixie, it seems everyone at Broadpoint Properties is being showed the love that they deserve.""
—Tanya K.
Broadpoint Properties Blog
Helpful Real Estate Insights from the Pros
Broadpoint
Properties Blog
Helpful Real Estate Insights from the Pros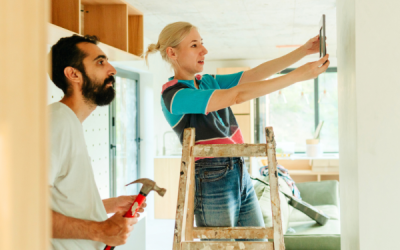 A drill, orbital sander and the likes are great power tools to have at home for repairs and home improvement projects. But not everyone has access to these power tools. Good news, not all DIY home projects require power tools. These projects can be rewarding...
read more
Sign Up For Property & Market Updates