Elisabeth Hartig Lentulo, a licensed Realtor® since 2011, and broker associate with Broadpoint Properties since 2016, enjoys the excitement and challenge of the real estate industry.
Elisabeth is skilled in working with sellers and buyers and expertly deals with traditional sales and investment properties as well as short sales, having been awarded the Short Sale & Foreclosure Resource Certification. In addition, she attained the nationally recognized Seniors Real Estate Specialist® title from the Seniors Real Estate Specialist Council of the National Association of Realtors® by successfully completing a comprehensive course in understanding the needs and goals of real estate buyers and sellers aged 55 and older. She has also been awarded the nationally recognized Military Relocation Professional Certification. The National Association of Realtors® awards the MRP certification to Realtors® who help military personnel, veterans and their families find housing that lets them make the best use of their benefits and serves the unique needs of military life.
Elisabeth possesses a profound proficiency in working with and determining the financial needs and situations of every client. She has resided in North County for over three decades and demonstrates a keen understanding of and appreciation for the area. You will find her to be personable, capable, thorough, considerate, accomplished, and professional. Loyal and sensitive to the needs of each client, she will leave no stone unturned to sell your property or find your new dream home. Her reputation and skills are impressive. She possesses a background in interior design that provides her with adeptness in preparing each home and helping sellers obtain the highest possible price for their property.
Elisabeth grew up in Germany and continues to speak German fluently. She is an active member of the San Diego North County Deutscher Stammtisch. A professional vocalist as well, she performs regularly with the popular Disciple Singers at First United Methodist Church of Escondido, with the prestigious Gary Bonner Singers, and periodically with the Fallbrook Chorale.
Elisabeth approaches everything she does with incomparable enthusiasm. As Elisabeth states, "No house is too large or small, I will sell them all!"
Hear what our clients are saying.
"From the beginning to the end of the process of the sale of our home, she provided us with excellent advice and led us through the process seamlessly. As usual, there were some time and repair issues in which she had a steady hand on the rudder of our voyage of the sale."
— zuser20171010043033723, Escondido
"We highly recommend Elizabeth Lentulo. She was professional, friendly and knowledgeable. We have bought and sold many houses over the years and this was by far one of the best and easiest processes we have been through and we know it was because of Elizabeth. She was always easy to reach and handled everything with ease. She took very good care of us and all our needs. We never felt pressured to do anything we didn't want to do. We recommend Elizabeth and know she will treat you just as grand as she did us."
— Don & Kathy Conley
"Having Elisabeth as our real estate agent was an excellent decision. She was more than happy to help and coordinate the transaction and flexible working with an ever-changing timeline. She was able to come by to explain documents and make recommendations in person rather than leaving us on our own to decipher."
— Andy Bonk
"I am so happy that my husband and I chose Elisabeth Lentulo to sell our house. This was our first time selling a home and I was a little nervous about the process. Elizabeth was so great. She took care of things quickly, she was always accessible and she gave us good guidance. The whole process was smooth and painless. If I am ever in the market for a realtor again she will be the first person that I call. I highly recommend her."
— Wendy Worbington
"Elisabeth was a wonderful agent! She was so friendly and made us feel comfortable and it felt like we were her only clients. As first time buyers, she was very patient and kind as we had to look at multiple homes In a span of a month. And she was extremely helpful and honest with advice in helping us find the perfect home! We are so happy we had the pleasure of working with her and can't wait to recommend her to our friends and family when they are ready to find their perfect home."
— Lisa Creamer
"The experience we had with Elisabeth in handling the sale of our home after 22 years was with significant satisfaction. She has wonderful communication skills providing you with important information in a timely fashion. She works hard to sell your home from prep, marketing material, open houses, neighborhood sales and value analysis, as well as timely/dynamic competitive positioning. A true professional and would have her as our realtor again, if the situation arose."
— Lynne & Walt Bonneau
"My husband and I think very highly of our real estate agent, Elisabeth Lentulo, and would recommend her without hesitation to anyone looking for a home in North County San Diego. We were very fortunate to receive a number of recommendations for a real estate agent when we decided to move to North County San Diego so I could be closer to my work. The very first call I made was to Elisabeth Lentulo, and I immediately felt that she had that edge of excitement about looking at properties and being a "matchmaker" that we were looking for. Throughout the process, Elisabeth was a total professional. Helping someone choose just the right house, in just the right location, at just the right price is an art form all its own. Elisabeth is not only an artist, but one of the most positive people I have met – she never let us get discouraged, and continually offered helpful ideas, even though we were probably quite irritating with our specific housing needs. After helping us find the absolutely perfect house, she shepherded us through the reams of paperwork efficiently, representing our interests effectively and tirelessly. We are so grateful to have found Elisabeth and would be delighted to share our story with anyone looking for an agent."
— Ellen B. Weller, Ph.D., Director, Palomar Symphony Orchestra
Broadpoint Properties Blog
Helpful Real Estate Insights from the Pros
Broadpoint
Properties Blog
Helpful Real Estate Insights from the Pros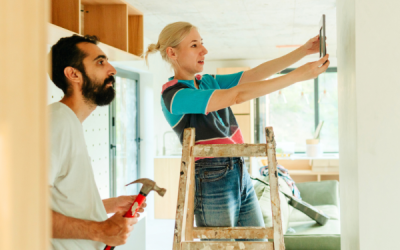 A drill, orbital sander and the likes are great power tools to have at home for repairs and home improvement projects. But not everyone has access to these power tools. Good news, not all DIY home projects require power tools. These projects can be rewarding...
read more
Sign Up For Property & Market Updates