Fadi Shini is one of the most dedicated and committed real estate agents in the San Diego region.
"We are fortunate and proud to have Fadi Shini associated with our sales staff," says Broker Melissa Zavala. "Fadi's customers and clients continually comment on his warm personality and personal commitment in making their real estate transactions a pleasurable experience."
Fadi is a true San Diego local, as there is no better place to live. "I have been lucky enough to grow up and establish roots in San Diego. Becoming familiar with all the areas of Southern California all the way up to Riverside County." Currently living in Carlsbad, Fadi is an avid fisherman. Traveling locally to find all the fishing spots Southern California has to offer definitely has helped him in real estate. This has shown him a wide range of areas, from rural to suburban territories, "I have been able to touch ground all throughout Southern California. Every time I take a trip, I take time to get to know the areas and what they have to offer so I can provide knowledge and value to any potential clients."
Outside of fishing if Fadi is not working, you will find him spending quality time with his family or out jumping around from restaurant to restaurant. "Good food is the way to my happiness and I've got a list of recommendations to share."
As your Realtor®, his goal is to provide excellence. Fadi's in-depth training includes special real estate courses such as Real Estate Practice, Economics, Financing, Property Management, Legal Aspects, Real Estate Appraisal, Real Estate Investments, Exchanges, Taxation, and Creative Financing. "I believe in integrity and connection with people on a personal level. Truly committing myself to every deal makes my service stand out."
Constantly keeping in touch with all the new cutting-edge technology helps make all his marketing reach beyond what others are limited to. "Due to constant change in the market, educating my clients and providing value is a must. Without a doubt, I find great passion in providing amazing service and helping my clients accomplish their goals. As your Realtor®, I will earn your work for years to come, and always bring the highest standards of service." Please contact Fadi for all your real estate needs.
Broadpoint Properties Blog
Helpful Real Estate Insights from the Pros
Broadpoint
Properties Blog
Helpful Real Estate Insights from the Pros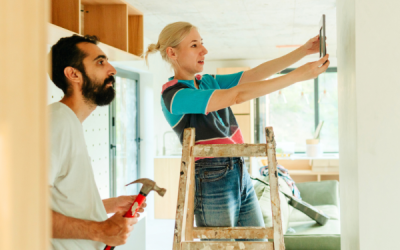 A drill, orbital sander and the likes are great power tools to have at home for repairs and home improvement projects. But not everyone has access to these power tools. Good news, not all DIY home projects require power tools. These projects can be rewarding...
read more
Sign Up For Property & Market Updates