Carlsbad Property Management Services
Meet our Carlsbad Property Management Team




Experienced Team of Experts
Commercial & Residential Property Support
Hablamos Español
Our Commercial & Residential Property Management Services in Carlsbad Include:
Rent Collection
Monthly Financial Reporting
After Hours Emergency Maintenance 24/7 Call Center
Maintenance Coordination
Bill Payment
Accounting and Invoice Processing
Lease Generation and Administration
Tenant Screening & Placement
Property Showings
Eviction Protection
Move-In / Move-Out Evaluations
Property Inspections
Landlord – Tenant Relations
Property Marketing and Advertising
Legal and Regulatory Issues Management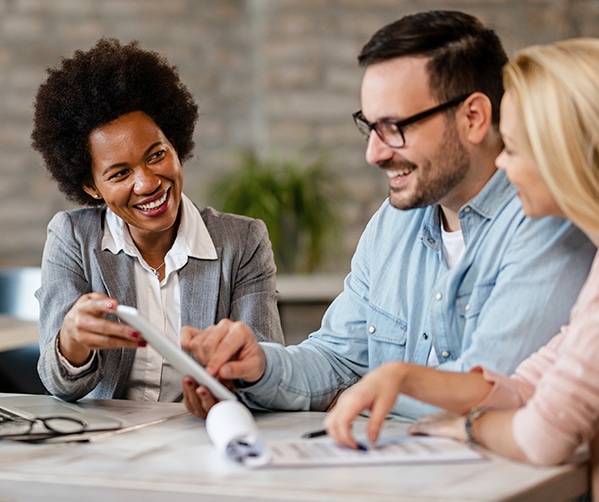 About Broadpoint Properties in Carslbad, CA
Broadpoint Properties is a full-service real estate brokerage serving home buyers, home sellers, and landlords throughout San Diego County. Our team of experienced professionals is available to assist you with all aspects of property management, including day-to-day operations, property inspections, rent collection, and more.
Located in North San Diego County and serving the nearby areas of Carlsbad Village, La Costa, La Costa Valley, Aviara, Bressi Ranch, Calavera Hills, Corona La Costa, and Rancho Ponderosa among others, our Property Management Division provides full-time management services.
Our skilled property managers oversee all of the daily activities associated with ownership – including maintenance, accounting, finance, and legal issues. At Broadpoint Properties, we work as a team to seamlessly supply excellent service for all of your property management needs. Want to learn more? Contact us today!
They are very honest and professional
"Broadpoint Properties currently manages properties for me and has helped me buy and sell at least 5 homes over the years. They are very honest and professional. While real estate sales seem to be very stressful, they seem to do and say all the right things so that the transaction seems to go along very smoothly. I would definitely recommend their services."

Ruby R., Google Review
I would definitely recommend them!
"Rented from Broadpoint for a year while we lived in Escondido and had a really good experience. The staff there was always friendly and helpful when we had questions/concerns or needed anything at all. I would definitely recommend them!"

Andrew P., Google Review
They are always in constant communication with us. Highly recommend!
"We have been a client with Broadpoint Properties for over a year now. Overwhelmed by the professionalism and timely response to our needs. Rachel and Melissa are the best! They are always in constant communication with us. Highly recommend!!!! Thanks to everyone for taking such good care of us."

Carlene S., Yelp Review
Very professional and keeps you updated!
"Used these guys in the past to help us sell a property in La Mesa and due to that positive experience we are now using their Property Management services. They are very professional and keep you updated every step of the way."

Bill S., Yelp Review
Take a Look at Some of Our
Carlsbad Property Management FAQs
What does your Carlsbad property management company do?
How much do property management services in Carlsbad typically cost?
Do property managers in Carlsbad need a real estate license?
I just purchased a rental property in Carlsbad. What do I do now?
Can property management companies evict people?
Do property management companies pay for repairs?
How do I find a good property manager in Carlsbad, CA?
About the Carlsbad Community
Carlsbad was incorporated in 1952, in large part to generate sufficient funding to connect with the water pipeline running through San Diego County. It is one of the highest-income communities in the country.
The city of Carlsbad has drafted ordinances to protect sensitive wildlife habitat, becoming one of the first municipalities in California to do so. The city has also pledged to protect a specified amount of land within the city limits from development of any kind and spends significant funds to restore habitats destroyed by newer development projects.
Carlsbad is located approximately 27 miles north of San Diego. Its coastal location, scenic beauty, low population density, thriving commercial sector, abundance of upscale housing, and high performing school districts have made Carlsbad one of the most expensive housing markets in the United States.
Directions to our main Property Management Office from Carlsbad, CA.
From downtown Carlsbad, head northwest on Carlsbad Blvd./Lincoln Street toward Carlsbad Village Drive. Continue on to follow Carlsbad Blvd., then at the traffic circle, continue straight onto County Hwy S21/Carlsbad Blvd/State St. Turn right onto Vista Way, then take CA-78 E to Centre City Parkway in Escondido. Take exit 17C for Centre City Pkwy South. Continue on Centre City Pkwy, then turn right at the 2nd cross street onto S Escondido Blvd. Our property management office will be located on the right-hand side in a small business center.
Looking to purchaseor rent in Carlsbad?
We are here to help you in all your real estate endeavors. Are you looking to buy or rent in Carlsbad? View our available homes and rentals.
Broadpoint Properties Blog
Helpful Real Estate Insights from the Pros
Broadpoint
Properties Blog
Helpful Real Estate Insights from the Pros
Homebuyers want the same thing - to get a home they love within their budget. They certainly don't want to get ripped off. Home purchase is a huge investment decision, so how do you know that you're looking at a home that's priced fairly? Here's how to know you're not...
read more
Get a Free Quote
We'll provide you with customized and reliable property management solutions. Fill out the form and we'll reach out to you with more information shortly.
Get a Free Quote
We'll provide you with customized and reliable property management solutions.
Ask a Question
Have questions? We'd love to answer them! Fill out the form below and we'll reach out shortly.