If you've decided to buy a home and want to learn more about the financials, then you're in the right place. You're probably wondering how much you can afford. The following items are the most important money matters to consider.
Know Your Debt-To-Income (DTI) Ratio
The 43% debt-to-income (DTI) ratio standard is generally used by the Federal Housing Administration (FHA) as a guideline for approving mortgages [1].
DTI ratio is the ratio of monthly debt payments to monthly gross income. Lenders use a housing DTI ratio (house payment divided by monthly income) and a total DTI ratio (total debt payments including the house payment divided by monthly income) to determine whether a borrower's income qualifies him or her for a mortgage [2].  You can have a quick look as to what your DTI is using this calculator or better yet, talk to a lender to get proper assessment.
The Housing Market and Seasonality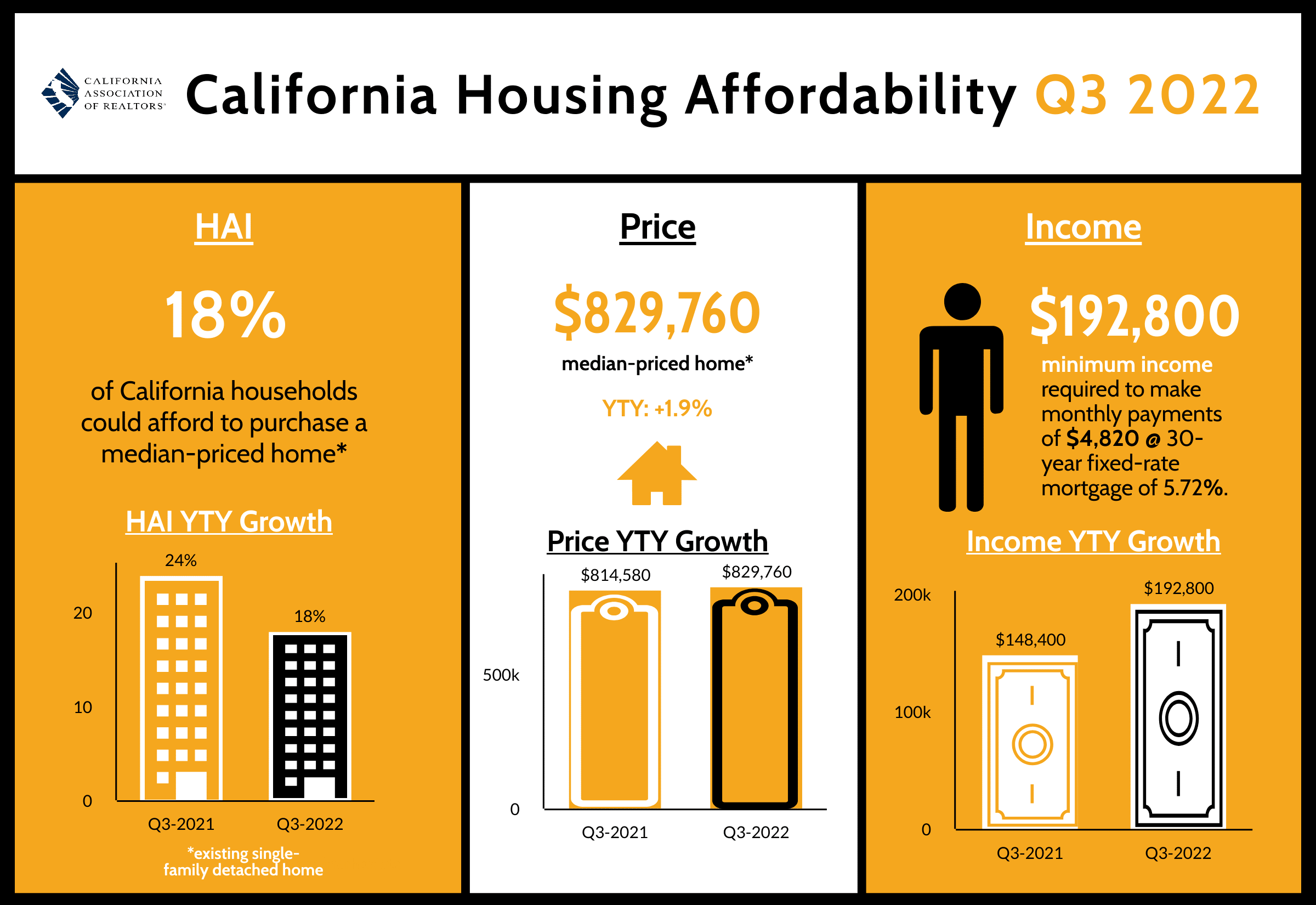 Here's some useful information for you about the real estate market at the end of Q3 2022. According to the latest report from the California Association of Realtors® for the third quarter of 2022, housing affordability inches up, but remains depressed by higher rates.
Eighteen percent of California households could afford to purchase the $829,760 median-priced home in the third quarter of 2022, up from 16 percent in second-quarter 2022 but down from 24 percent in third-quarter 2021.
A minimum annual income of $192,800 was needed to make monthly payments of $4,820, including principal, interest, and taxes on a 30-year fixed-rate mortgage at a 5.72 percent interest rate.
Nearly 30 percent (27 percent) of California home buyers were able to purchase the $630,000 median-priced condo or townhome. A minimum annual income of $146,400 was required to make a monthly payment of $3,660. [3]
It is also important to note that usually, home prices have tendencies to go up towards the end of the year and decline in the first quarter. You probably heard before that Spring is the best time for buyers because of the surplus in homes available. Winter is usually a time when sellers see less demand in purchases so they tend to be more flexible on price.
The Economy
During COVID when the economy was badly hit, interest rates were at an all-time low. As of this writing and now as the world is starting to open up and go back to normal, the interest rate for a 30-year mortgage is between 5 and 7%, this is higher than around 3.22% last year. To illustrate, say you're buying a home priced at $100k, at 6.42% interest, that's $799.56 per month for the next 30 years and $629.31 for a 3.22% interest.
Getting your dream home shouldn't be a nightmare. If you need more support regarding this topic or any real estate concerns for that matter, contact the agents at Broadpoint Properties and we'll be glad to help.
U.S. Department of Housing and Urban Development. "

Section F. Borrower Qualifying Ratios

," https://www.hud.gov/sites/documents/4155-1_4_SECF.PDF Page 4-F-4.

California Association of Realtors®. "

Real Estate Terms

," https://www.car.org/en/marketing/clients/realestateterms.

California Association of Realtors®. "

Third quarter 2022 housing affordability

," https://www.car.org/en/aboutus/mediacenter/newsreleases/2022releases/3qtr2022affordability.