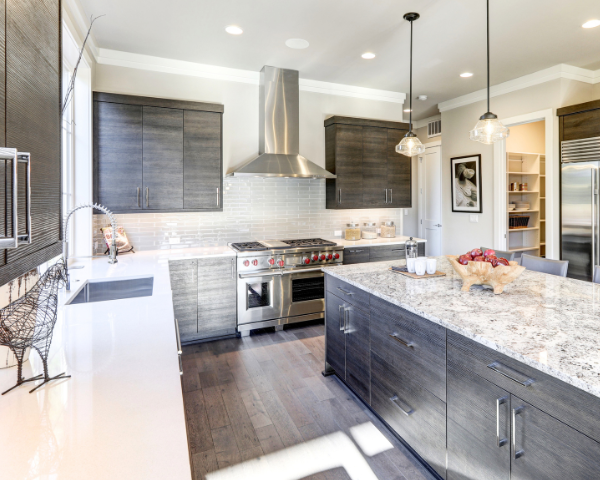 Gray kitchens offer a sophisticated and flexible design canvas, making them a popular and great choice for homeowners looking to create a modern and timeless kitchen space. With the right design elements and thoughtful touches, you can make gray kitchens more exciting.
Gray kitchens are popular and considered great for several reasons:
Timeless and Versatile:

Gray is a neutral color that never goes out of style. It complements a wide range of design styles, from modern and contemporary to traditional and farmhouse.

Easy to Coordinate

: Gray pairs well with a variety of colors, materials, and finishes, making it easy to coordinate with countertops, backsplashes, and cabinet hardware.

Calming and Relaxing

: Lighter shades of gray can create a calming and soothing atmosphere, making the kitchen a pleasant space to cook and spend time in.

Resale Value: Neutral interiors are generally well-received by homebuyers, which can potentially increase the resale value of your home.
Below are some gray kitchen inspirations:
Light Gray Kitchens
Lighter grays can reflect natural and artificial light, making the kitchen appear brighter and more spacious. Introduce pops of color through decor items, such as colorful dishes, barstools, or kitchen accessories, to add vibrancy and personality.
Greige Kitchens
Greige is a blend of gray and beige and has been a favorite amongst many homeowners and designers in the recent years. It has a warmth to it that can evoke a cozy and inviting atmosphere in a room. It softens the sometimes stark appearance of pure gray and can create a more inviting space.
Cool Gray Kitchens
Incorporate warm wood elements for a touch of natural warmth and contrast for cool-gray tones. Wooden floors, open shelving, or a kitchen island with a wood top can complement beautifully.
Stainless steel appliances complement gray cabinets beautifully and add a sleek and modern touch to the kitchen as well.
Two-Toned Kitchens
Incorporate not just one, but two different shades of gray to achieve a captivating tone-on-tone appearance that introduces depth and visual intrigue. This stunning kitchen ensemble achieves a perfect balance between light and dark gray.
Charcoal Kitchens
Darker shades of gray can create a high-end, luxurious feel. They draw the eye and make a bold statement. Dark colors are adept at concealing minor stains, fingerprints, and wear and tear, making them a practical choice for a high-traffic area like the kitchen.
Metallic finishes like bronze or gold can add a touch of luxury and warmth to the gray color scheme.
Kitchens with Natural Gray Finish
Several natural materials and finishes are naturally gray in color such as concrete, marble, slate, weathered wood, etc. These natural gray finishes offer a unique and organic aesthetic.
Soft green accents, whether in the form of plants or decor items, can introduce a refreshing and natural element.
Which look is your favorite? Share with us in the comments!