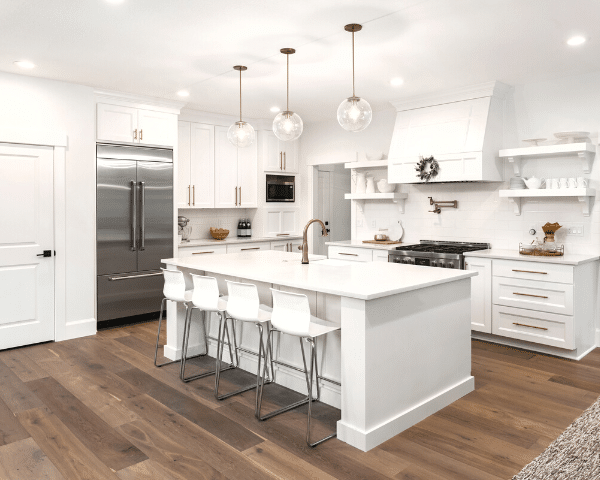 "Trends, I hate that word because it gives people the excuse to keep making rash, sometimes expensive changes to their homes, only to regret it or tire of it in a few years' time," says Helen Parker, creative director of deVOL, the UK-based manufacturer of swoon-worthy, timeless kitchens.
If you're currently on the lookout for ideas on building a kitchen that never gets outdated, you're in the right place. Invest in these timeless kitchen design essentials that will outlast trends, according to experts.
All-White Kitchen
This minimalist style has been taking the stage for quite some time now and experts believe that it is here to stay. A neutral base is a good canvas for changeable accents and accessories. But sometimes, this style can appear clinical or flat. Make a crisp, ivory kitchen timeless with these:
Stainless appliances

Deeper accent pieces, like matte black or rich copper for faucets, kitchen fixtures, and lighting

Carrara marble with gray veins, soapstone, and quartz

Wooden shelves and boards
Farmhouse Kitchen
A cozy, rustic kitchen has always been in style. It's a reminder of simpler times, full of character and lots of family memories. Mix old and new design elements to make sure this style stands the test of time.
You can never go wrong with soft neutrals and earthy tones in creating a comforting and classic kitchen. While white is a popular choice, you can also opt for creams, pale greys, an earthy light green, pale blues, or taupe.

Opt for organic materials like deep marble farm sinks, flagstone flooring, soapstone counters, leather drawer handles, and raw wood surfaces like plywood shelving.

Hanging pots, cast-iron wall hooks, bronze cabinet pulls.

Try open shelving, displaying stacked tableware, coffee mugs, and more.
Industrial Kitchen
Moody, masculine, and old-world — that's what this kitchen design is about. If you love this classic, downtown style, here are some notes from experts
Inky and matte black cabinetry

Brass and wrought iron fixtures

Soften things up with rich woods on countertops

Edison bulbs for lighting

Stainless steel appliances and sink.

Embrace exposed bricks and dark grout tiles for the backsplash.
Do the kitchen appliances need to match in looks? Learn more here.
Source: The Spruce