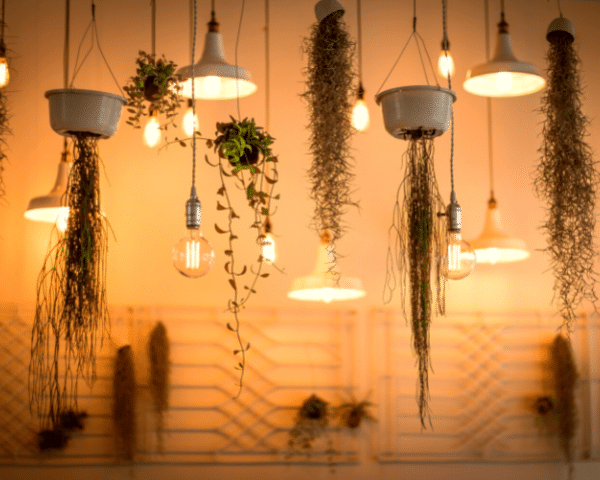 Interior lighting is something most of us probably don't think about much but makes a huge difference in the overall look of your home. Lighting can make us look amazing, alter the architecture, make art important, raise the ceiling and change the atmosphere of a space. Let's dive deeper into the basics of lighting and how you can enhance your space using these expert-approved tips.
Light Effects
There are three main categories of home lighting effects – ambient, accent, and task.
Ambient lighting
It provides overall illumination and is meant to create a general and uniform lighting level. It's the first layer of lighting and sets the tone of a space. That's why it's typically soft or diffuse, and often dimmable to accommodate day and nighttime settings.
Ambient lighting is especially important in hallways and stairs for optimal orientation and visibility. It also is useful in kitchens or home offices, where fixtures with wide light beams provide a consistent level of lighting.
There are several types of ambient lighting:
Ceiling-mounted or recessed fixtures that direct light downwards

Wall sconces and floor lamps, which wash the walls and/or ceiling with light

Cove lighting, floor lamps, and pendants that bounce light off ceilings and walls
Although it provides general illumination, ambient light is not ideal for task work or to showcase specific elements in a space, which are the role of the next two types of lighting.
Accent lighting
Often combined with ambient lighting is accent lighting. This type of lighting is usually added to a room for two reasons—to bring more light to all corners or to enhance the decor. Many times, the ambient light fixture isn't powerful enough to light all the corners of the room, so instead of huddling in the lighted areas, accent lighting can be installed.
Task lighting
This direct, intense illumination is ideal for detailed task work, such as reading and writing at a desk, grooming, and preparing food. It's focused on the particular area where the task is performed and is brighter than ambient lighting. Effective task lighting is glare-free and strong enough to prevent eyestrain.
Examples of task lighting include:
Recessed and track lighting

Pendants

Under-cabinet lighting

Floor, desk, and table lamps

Bathroom vanity lights
Task lighting is key in the kitchen, where under-cabinet lighting or pendants increase visibility on countertops and food preparation areas. Table and floor lamps provide useful task lighting in living areas and bedrooms and can reinforce the room's desired design style.
Sconces, vanity bars, and pendants can be deployed in bathrooms to improve visibility, especially close to the mirrors.
Color Temperature
You're probably already familiar with this when shopping for light bulbs. Using Kelvin temperature can guide you in choosing the optimal lighting for each room.
Warm White (2700K)

gives off a toasty glow of light, as warm as sunlight. If you want a little bit of drama or to make a room feel friendly, personal, and intimate, then this is a good color to use.

Soft White (3000K)

looks slightly cooler than warm white but still soothing to the eyes, cozy and pleasing. Best for used for accent lights at home.

Neutral Glow (3500K)

is somewhere between warm and daylight. It's recommended to use for ambient lighting or step lights.

Daylight (4000K)

gives off a white light that is best used in the kitchen, closet, offices, workspaces, and vanities where task lighting is needed.

Crystal White Glow (5000K) shows the true color of things. Commonly used for bright task lighting where precision or being alert is needed. This type is usually for commercial use or high-energy places like hospitals and the graphics industry.
Tips for Choosing and Installing the Perfect Type of Lighting
The entrance gives a first impression to guests so it's good to have warm lighting to create a welcoming feeling. Good wall sconces, hanging pendants or chandeliers are appropriate options for the hallway.
Install pendant lights or a chandelier at the center of a dining table for adequate lighting and mood. Have it at around 30 inches above the dining table.
If you're having a hard time seeing what you are cooking in the kitchen, then consider installing undercabinet lighting.
Consider investing in dimmable or smart lights so you can easily change how bright or what color you need a light to be especially for multi-functional spaces at home.
Use softer, shaded fixtures for sitting or relaxing areas. Use direct lighting for busy or work areas at home such as countertops, desks, and vanities.
Make sure fabrics are placed away from hot bulbs to avoid fires.
When choosing a light fixture, a good size would be a diameter that is one-twelfth of the width of the room.
Create more lumination and interest in any space by combining lighting of different eye levels.
For a cohesive design, make sure that a fixture fits the overall look or theme of the house.
Aside from lighting your gallery wall or an important piece of art at home, light fixtures themselves can also be an art piece in your home. Don't shy away from finding a nice statement chandelier or sconce.
Got other ideas for enhancing your space through lighting? Leave us a comment below. And for more home improvement tips, please feel free to visit our blog.

(The italicized information in this article has been sourced from Vibia.)