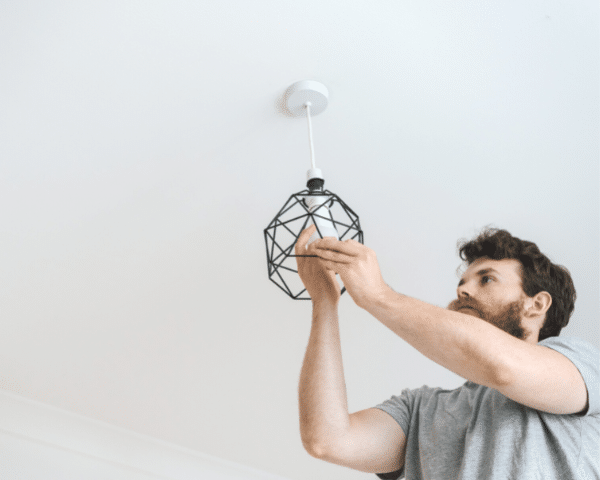 Are you craving a more well-designed home but low on budget and time? Here are nine minor DIY home upgrades that can make a huge impact without breaking walls and your wallet.
Paint
Adding a fresh coat of paint is quick, affordable, and can easily give a space a whole new look.
Update Cabinet Handles
Matte black finish is the top favorite pick nowadays for modern cabinets. People are also into replacing knobs with latches. There are great options now depending on your style and this update will not take much of your time and money.
Replace Light Fixtures
If you're looking for a sign to update those "Hollywood" style light fixtures, this is it! New light fixtures can renew the look of your home, and increase safety and energy efficiency.
Update Your Doors
From "flat" to "fab!" – giving your door a makeover adds curb appeal and more value to your home. You didn't have to replace the door at all, you can steal the look of our example above for only $3!
Change the Baseboards and Trims
Aside from keeping dirt and pests in the gaps between walls and floors, updating the baseboards and trims add a more sophisticated look and feel to your home.
Replace Outlets, Switch Plates, and Thermostat
Another two-for-one revamp idea! Why not consider updating the outlets and wall fixings into more modern ones? They make your home more put together, plus updating them to current standards will benefit you in the long run.
Replace Faucets and Bathroom Fixtures
You can opt to change the fixtures entirely or simply give them a new look with spray paint – no plumbing required!
Update Appliances
Do you have an old fridge that you love and is basically family but is not keeping with your modern style taste? An inexpensive solution is to cover it with stainless steel contact paper.
Another option, although it comes with a hefty cost, you're hitting two birds with one stone, is to replace old kitchen appliances – which makes your space more aesthetically pleasing and energy-saving.
Change Window Treatments
As simple as mounting the rod at the ceiling or about 10" above the trim can make the room look larger. Make sure the curtain has the right length, ideally, touching the floor.
We hope these design tips help! Which of these are you excited to try at home? Let us know in the comments!