5 Design Ideas for Updating Your Patio
All that fresh air demands a fresh look, right? You don't have to break the bank to update your patio every year. Depending on your budget, there's a way to spice up outdoor space. Here is some inspiration and/or ideas on how you can breathe new life into your existing patio setting.
5 design ideas for updating your patio
Change the throw pillows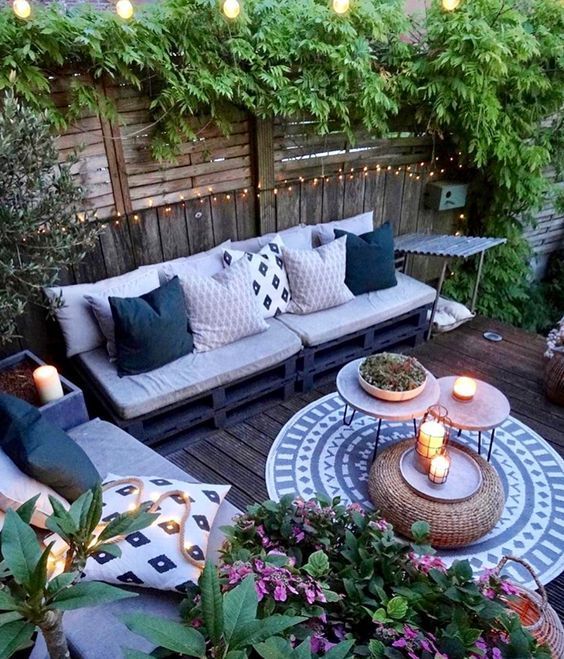 Swapping out throw pillows or simply changing covers is a super easy and cost-effective way to upgrade your patio each season. For a contemporary look, your pillows don't need to match. If you're unsure, stick with the neutrals.
Be artsy with your chairs
Don't throw out that old wicker chair just yet! Update the look with some paint. You may also simply repaint your existing metal furniture, especially if it is becoming rusty.
If you have some affordable sling chairs like this, get crafty and paint the canvas yourself.
Not in the mood to paint? You may also consider adding a hammock for a chic, comfy vibe.
Paint the floor
An eye-catching tile on the patio can make all the difference. Choose a whimsical pattern with bright colors or Moroccan-style pattern and then use more timeless and neutral furniture that won't overwhelm the eye. You can buy tiles or simply stencil over your existing tiles or wood (even concrete!)
If you don't have the kind of style that calls for bold, look-at-me-designs, then you can create a more quiet space depending on what paint colors you choose. You can opt for smaller patterns in grays or beiges.
Outdoor Rugs
Layers of rugs added to an ordinary patio helps cluttered outdoor furniture look more put-together and cohesive. Desert-inspired earth tones and bohemian chic vibes are the biggest trends this year for the home. Warm tones and a tribal pattern add an exotic feel to any outdoor space too.
Light it up
Oftentimes, we don't think much about lighting in the patio. Not only can lighting transform the look of an outdoor space, it also adds safety and security at night. Put lamps, lanterns or string lights. It may also be the bonfire that can be lit at night. LED lights are becoming increasingly popular among homeowners too. While they're more expensive upfront than incandescents, they save money over time by using 90 percent less energy.
If you or anyone you know is looking to trade in their patio for a new one, please call the agents at Broadpoint Properties.