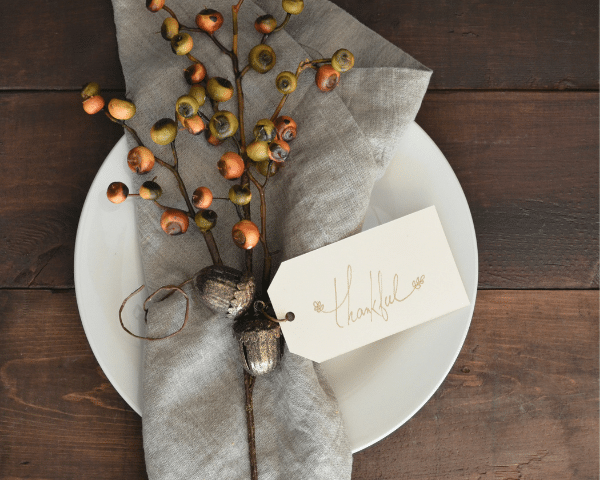 Thanksgiving in the time of COVID this year is surely one all of us will never forget—probably no visit to grandma's.. Instead, celebrating alone or virtually via Zoom. Whatever you decide on doing this year, there's a simple way to feel the spirit of Thanksgiving at home—decorating. If you haven't done it yet, here are a few ideas to easily spruce up your home that won't take a lot of your time and money.
Welcome everyone with this easy and minimal arrangement of bundled wheat at the front door.
Hide the spooky faces and those pumpkins from halloween are still useful and relevant.
Gather a few mini pumpkins and leaves, lay them onto the center of your dinner table. Voila! You've got an easy, elegant, and beautiful table runner.
If you're celebrating with a few folks, here's something for Thanksgiving dinner: All you need is a simple white napkin, a paint pen, a faux leaf (or a real one), then write your guest's name on it. You can also choose to write things you're thankful for, put them in a mason jar or all over the dinner table.
Or you can take a few small pinecones and insert a handwritten name tag – a festive Thanksgiving table in a flash!
Why not put some leftover apples from your apple pie to good use by making a candle holder out of it. Cut a deep hole on top and wedge the candles in. Style with some more apples or leaves for some added pizzazz.
Bring the outside in – gather some branches of crabapples, figs or chestnuts, put them in vases and you've got yourself a fuss-free, lovely Thanksgiving decor piece with absolutely no arranging needed.
Say you're thankful in big, bold letters. There are tons of printable you can find online. You can try a black and white themed banner or a glam-gold one to create a look that's simple and modern, but still perfectly fit for the occasion.
Or say thanks in a more quirky way, like on these balloons. Plus, you can turn the balloons in the shape of roasted turkey legs for some added Thanksgiving vibe.
Now here's something you can do with some paper towel and creativity: Toilet Paper Pumpkins!
Hope these ideas inspire you to sprinkle some thanksgiving joy at home amidst the pandemic. Happy Thanksgiving from all of us at Broadpoint Properties!