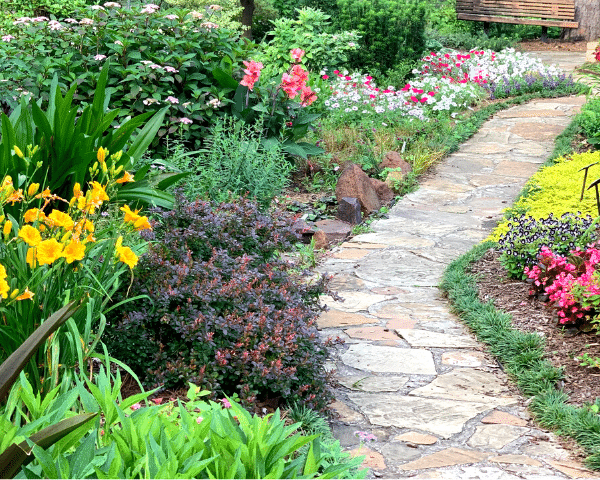 It's that time of the year again for bright leaves and beautiful flowers! Embrace spring in all its glory with open arms. Let's take a visit to other people's yards and get inspired to pretty up yours this spring.
Get Inspired: Ideas for Your Spring Yard
A Variety of Plants
Mixing up different sizes, colors, and textures of plants gives depth and adds interest to the space. 
Better Homes and Garden recommends combining these three types of plants adds interest and balance to your garden.
Thriller

: These plants add height and a bold vertical element. Some options include foliage plants, ornamental grasses, or upright flowering plants. Thrillers typically go near the center of a container.

Filler

: Fillers tend to be more rounded or mounded plants and serve the purpose of making the container look full. These are generally placed in front of or around the thriller. In a long and narrow container like a window box, fillers are placed midway between the edge of the container and the thriller variety.

Spiller

: Plants that hang over the edge of the container are considered spillers. If your container garden is going to be seen from all sides, be sure to place spillers all the way around.
Huge Pots
Adding oversized pots makes a good filler for empty spaces in your garden. Choose pots in different sizes in the same color to help to draw the eye to the space while being cohesive, like these black giant pots against a white brick wall with a mix of vibrant greens.
Vertical Garden
Small space gardening got its moment during the pandemic and still continue through to today. One of the most popular ways is covering walls with plants. Not only is it space saving, but also adds oomph to your outdoor walls and creates a sense of being surrounded by greenery.
Mailbox Planter
Add curb appeal by giving your mailbox or address sign a makeover! If you want to recreate this project, you can find the instructions here.
Water Feature
If you're totally happy with your plant and flower arrangements, perhaps you can step it up a notch with a water feature. They're always a stunner plus they help minimize environmental noise.
We hope these ideas inspire you to find your springtime vibrant and enjoyable. Feel free to browse through our blog for more home tips.