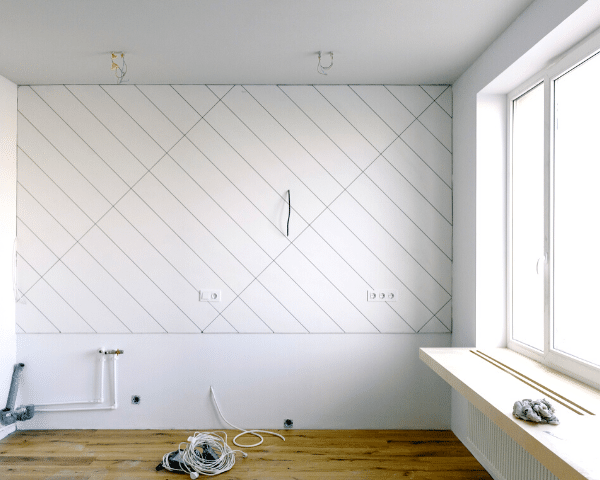 It can be super exciting to finally go for it and copy that kitchen do-over idea you saw on Pinterest. But it's your first time and where do you start?
It's always helpful to be prepared, and that's especially true when you're scraping off tiles, tearing down cabinets and creating the kitchen of your dreams, all while hiking up your home's value. Stay away from the following renovation no-nos, especially if you're a new home owner:
Not having a clear vision


Have a detailed plan for what you want your room to look like when it's completed before looking for contractors. Change of mind about the design in the middle of a project can be costly. Being decisive and showing your vision to your contractor will also provide them with the right expectation and full scope of the work. It will make it easier for the contractor to give you an accurate estimate too.

Not Doing a Thorough Home Inspection
In purchasing a home, one of the most important steps is the home inspection. While this is a step that's already been done when you purchased your home, there are some items that a general home inspector can't evaluate such as pools or septic systems, termites and other hidden flaws.

Surprise repairs are not the kind of surprise you'll want so as a precautionary measure, make sure to inspect every inch of your new house from top to bottom before proceeding with any renovations. It is ideal to hire an expert to assist you as this will ensure that your remodel goes smoothly. If an inspector is not within your budget, you might want to consider saving beforehand for your inspection. This is one of the most important steps to avoid home renovation mistakes.

Setting an Unrealistic Budget
Think of upgrading your house as an investment. It's always a good idea to put aside a little extra for unforeseen expenses like clean-up costs to electrical and plumbing repairs. While you can plan a budget and stick to it, things will be easier to handle and will be less stressful for you as well financially, if you've set a slightly heftier budget in case something unexpected comes up.


Not Hiring a Qualified Contractor
Usually, for first-time renovation projects, home owners are compelled to call upon either the first one to give you a quote or the cheapest one. Frustration, delays, and unplanned expenses – these will be more likely what you'll experience in failing to get someone qualified. Make sure you ask to see their recent work and check references and research online for reviews of contractors. Ask your neighbors. It is also helpful to find someone local, as they are accustomed to weather conditions in your area.

Now, let's go room by room:

Kitchen Remodeling Mistakes

Following what's trending
Ok, you're totally in love with that cute terrazzo countertop idea you saw on Instagram now. But what about in a year or two? New kitchen trends scour Pinterest and other lifestyle magazines every year, and focusing your remodel based on what's in now can come back to haunt you in a few years. Try to stick with something timeless for your backsplash, countertops and cabinets and add trendy accents instead like for your linens and decor.

Incorrect Measurements
This actually applies to anywhere else in the house. Measurement mistakes can derail the project or delay for weeks especially for custom-built cabinets and countertops.

Focusing on Design Over Function
Consider which materials are most practical for your family. If you have children or pets at home, hardwood floors will show more wear and tear than laminate options – especially if you prefer darker colors. Darker-stained floors will show scratches and imperfections more than a lighter or natural colored option. Durability and functionality should be top of mind, not just the aesthetics.

Bathroom Remodeling Mistakes

Not Changing the Layout
Evaluate the current layout of your bathroom and see if it serves you well right now. If you need more space, consider moving the vanity to a different wall or converting to an open shower. Relying on different colors or tile patterns to make the space feel bigger may not be enough to make you think the bathroom is bigger than it really is.

Forgetting About Structural Improvements
Hate to break it to you, but cement boards are not waterproof. Hardibacker board is not waterproof. Also tile and grout are not waterproof. Homeowners often choose to skip adding a membrane system to their bathrooms. This layer goes under the floor tile for waterproofing and avoiding leaks. It's an additional cost, but sometimes the items you can't see make the biggest impact.

Living and Bedroom Remodeling Mistakes

Poorly Planning Your Layout
Really think about all the things you already have and where everything will be settled. If you're after an open floor plan and will have to take down a wall, just make absolutely sure that the wall is not load-bearing and that you have secured all permits.

Also consider the electricals that you will need for a room like humidifiers, lamps and others so you can properly allot outlets for such things. Common practice is to place outlets in the corners of the room. If the budget permits, install floor outlets to accommodate for charging docks and other electronics in the middle of the room.

This dream project of yours will take time and it is imperative to not rush through the process. Rome wasn't built in a day, so as this renovation to be successful, be set out a plan and have patience. We hope that this helps you not to fall for common renovation mistakes. For more home remodel tips, feel free to browse through our blog.