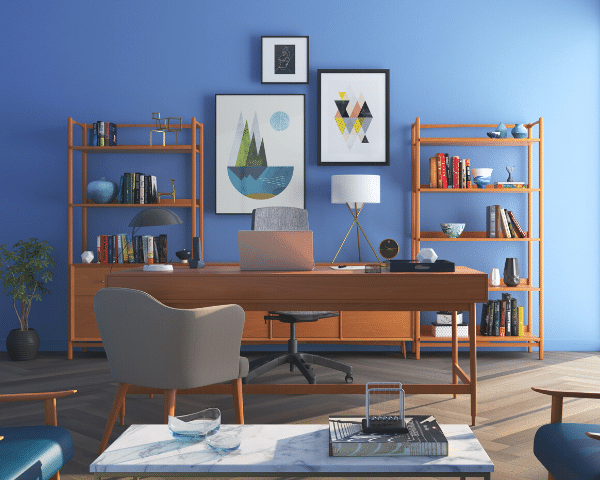 "Living without color is like living without love… It brings so much happiness and life and love to a space. Color is absolutely nothing to be afraid of." — world-class interior designer Kelly Wearstler.
Colors can have a profound effect on one's emotions. Invite color into your home and an affordable way to do it is with paint. Whether you're painting the entire room, furniture, or just one wall, it truly makes a statement. While there are no solid rules for choosing colors for your home, these colors are often used in the following ways:
Choosing Colors for Your Home

Red
Inspires action and confidence

Ignites passion or energy

Stimulates your appetite

Commonly used colors in the bedroom and dining room

Orange
Promotes social interaction

Brings fun and warmth to a space

Recommended to be used in the living room, dining, and kitchen areas

Soft peaches and apricot tones can be used in the bedroom

Yellow
Boosts communication

Invokes feelings of warmth, joy, and optimism

An overabundance of this color can cause anxiety, especially in kids

Good color choice for your living room and dining

Green
Most refreshing color

Promotes fresh ideas and helps in focus

Helps induce feelings of relaxation and calm

Good color choice for your home office and living room

Blue
A favorite household paint color

Light blue is good for people who are stressed as it's mentally soothing. It is also believed to help prevent nightmares

—

making it a good color choice for the bedroom

Dark blue helps in imaginative thinking and focus

—

so it is recommended in home offices

Turquoise is great at energizing and waking up your body and mind

—

which makes it a good color choice for the gym or the living room

Purple
This is an uncommon choice for households but this color is associated with luxury, royalty, and magic

Deep purples uplift and encourage creativity, making it a great choice for home offices

Lavender is relaxing, making it a nice color choice for bedroom and kids' rooms

Pink
Soft pinks are good for those looking to bring feelings of love, warmth, and support

This happy color is a good choice for kids' room, nursery, and bedroom

White
Looks clean and fresh

Makes the room look bright and airy

Allows other accent colors in the room to stand out

Black
Gives the room a glamorous and elegant look

Painting the entire room with this color can make the room small

Apply touches around the room to make it look more modern and chic

Brown
The color of the earth, this neutral color is typically associated with the seasons of fall and winter

While sometimes considered dull, it also represents warmth, simplicity, and dependability

Recommended to be used in the living area, a reading nook, or study area.

Unsure with what color to choose? Go into your closet. That way, you can have an idea of what colors you already like. Colors that make you look good, make you feel good. For example, if you have a lot of whites or blacks, perhaps you like colors that are muted, and neutral. If you have a lot of colors in your closet, try to pick some items of clothing that you like most and lay them out. Looking at these colors is going to tell you what you wanted to surround yourself with. If you are still unsure of what colors you want to be surrounding yourself with, start with the colors you don't like to help limit your color options.
Colors can also affect the size of a space. For example, rich colors on opposite sides of a wall make the space look narrower and more intimate, while light colors on opposite sides of a wall make it look more spacious.
If you don't feel like painting, you can still add color to your room with throws, rugs, frames, and even plants and flowers. Another thing to consider is the kind of finish on the paint as it can also have an effect on the look and feel of a room.

These are just general guidelines, but overall choosing colors that resonate the most for you will always make your home feel yours and a much happier place to be in. For more home improvement ideas, feel free to browse through our blog.