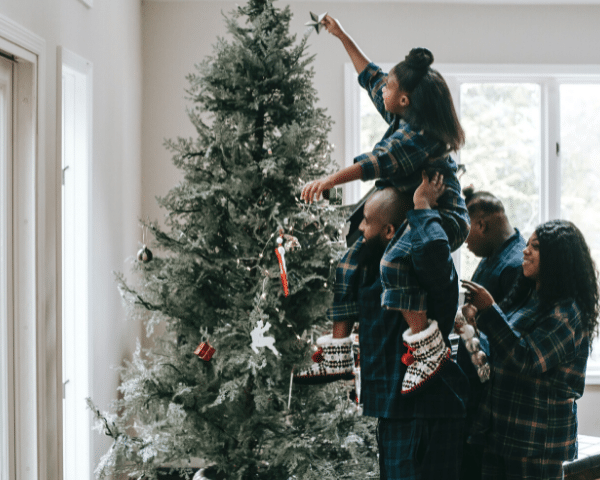 It's beginning to look a lot like Christmas! If your home hasn't caught on yet, take a look at these Christmas decor items we love from Amazon that you can have delivered in time for the holidays.
Top Christmas Home Decor Items From Amazon
Illuminate your front door with the warmth and cheer of the holiday season with this fantastically festive wreath. It is already strung with battery-operated LED lights prior to packaging for a more convenient setup. The lights can be set to warm white or multi-color, plus many modes like steady on, flash, fade in and out, etc. Once you press the button to turn the lights on, the wreath will stay lit for 6 hours, turn off for 18 hours, turn back on at the same time every day and stay lit for 6 hours every day.
Instantly cozy up your couch for the Holidays with this Instagrammable cotton pillow.
This candle basically Christmas time in a bottle! You get notes of apple cider, cinnamon, pine, sugar cookies, and orange. They use premium fragrance oils, a soy wax blend, and 100% cotton wicks to ensure your candles burn evenly and cleanly. The jar is beautifully designed that comes with a wooden lid that can be a nice little piece on your mantel, side table, or dinner table.
Designed in a classic rustic Christmas style with burgundy red, ivory white, and green, this knit stocking is perfect for you to create a strong "Christmas festival atmosphere". Insert candles and small gifts in it.
Perfect this hot cocoa season, this stoneware mug is simple, evergreen, and would be a nice addition to your coffee nook. Plus, it's microwave & dishwasher safe.
This charming reindeer set makes a nice addition to your console or side tables. Its nordic design fits any season, you can leave it even after Christmas.
Brighten up the mood at home with this pick-me-up Christmas poster.
If you're looking for something unique to add this year, why not check out these high-tech, holiday decor.

This season is all about making memories and getting to see and bond with the people you love, near or distant. From all of us at Broadpoint Properties, best wishes to you for a happy holiday season and an excellent new year!
Shop these Christmas Decors on Amazon