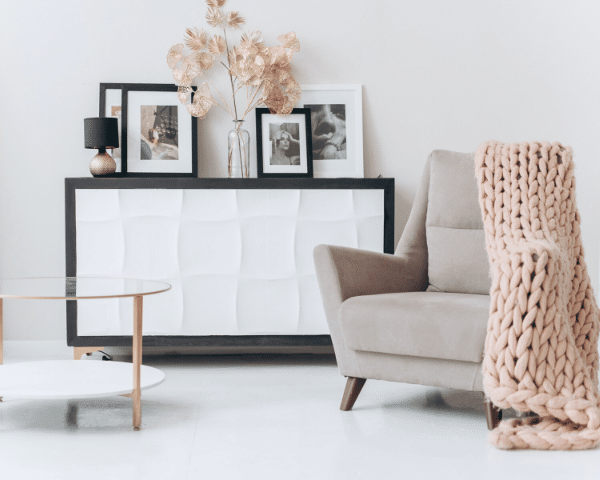 Tired of the usual pumpkin patch decor? Or perhaps you are not fond of bright reds and oranges. There are still ways to embrace fall and dress up your home for the season. We found unique fall decor ideas, with zero pumpkins that are easy and elegant ways to transition the seasons!
Stick with an earthy color palette.
Instead of the traditional vibrant oranges and reds, use more toned down hues like burnt oranges, blush pink, dusty reds and light browns. Other exciting accent colors are deep blues, greens and plum. You probably have those in your home already from wooden items, brown leather seats, brass accents, wicker furniture, etc. And this is something you can use all year round, fit for any season!
Add dried leaves
Dried leaves and flowers are a fall decor staple. A good alternative to dried orange tinted leaves are mustard, plum, mauve and tans. Dried plum eucalyptus is a popular choice nowadays.
No pumpkins in sight
Swap out pumpkins with other produce like figs, pomegranates, persimmons, pears and apples as your centerpiece.
Wicker balls on the coffee table are a low-key, natural centerpiece that you can use all-year and compliments well with with dried fruits, poppy pods, and potpourri this season.
Change the linens
Colder weathers means chunky blankets. Throw in extra blankets, pillows, table linens, and rugs, will go a long way in creating a autumn vibe in your home. Spice it up with some statement pillow cases. Stick with your chosen color palette.
Embrace the cozy autumn ambience with things in your home that warm up your heart. Happy decorating!