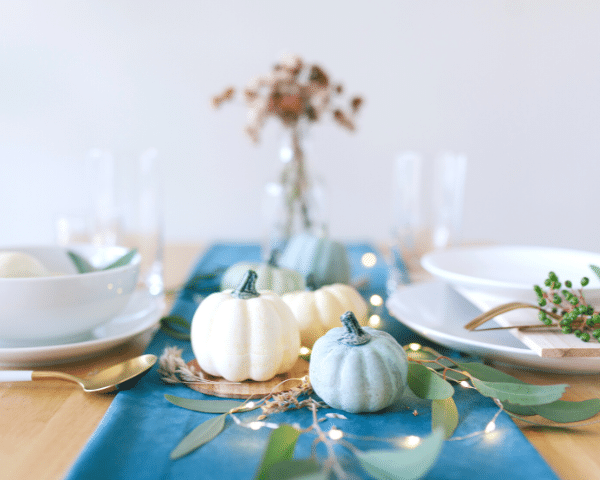 Thanksgiving is such a special time for families and food and one place becomes the heart of it to grace this event — the dinner table. Now before you bring out your china, your fanciest glasses, your shiniest silverware, and a centerpiece to impress your guests, keep in mind to not be too heavy-handed with the tabletop decor so you will have a comfortable space to eat. Set the scene for Turkey Day with a beautiful tablescape and here are some ideas to fire you up!
Interior designer Marie Flanigan likes to go subtle. She does it with a white table runner, some olive branches, tea lights, and mismatched china to create a cozy setting that is so versatile, you can use it not only for Thanksgiving.
Or go simple with some greenery and good ol' pumpkins.
Check out this unexpected combination of wheat and black and gold dinnerware.
For those who have classic white and blue china, take notes! You can never go wrong with the classic farmhouse look.
Or go full-on royal blue.
A standout centerpiece paired with muted plates is a match made in heaven.
Try mixing rustic natural elements, gray plaid, and simple dinnerware together and you create an interesting light, and airy table setting.
Show off your unique plates!
White and orange are lovely together. But we think the best part of this table setting, is the heart-warming note.
It's a happy season after all, so why not go for bright, fun colors?
Whatever your style is, fill the holiday with love, laughter, and gratitude. Happy Thanksgiving from all of us at Broadpoint Properties!