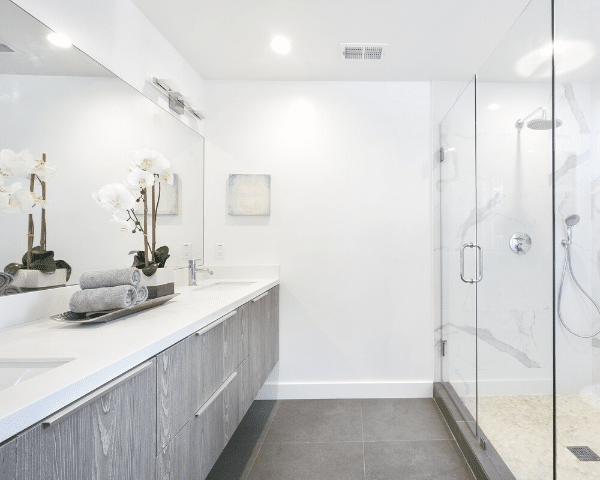 Got a windowless bathroom? Designers share with us tips on how to open up and brighten a bathroom.
Make Everything White
White reflects light throughout the room, thus giving a bright and airy ambiance. It is recommended to use a gloss or semi-gloss paint paired with white tiles.
Opt for a Leggy Vanity
Although they provide less storage space, they help make the room feel less boxed in.
Keep the Shower Open
Shower doors or curtains can close a space off. Choose clear glass or a frameless shower door to make the space feel larger.
Make it Shiny
Shiny, metallic plumbing fixtures are easy to change that can help light bounce around and make the space feel uniform. Materials such as polished metal, glass, mirror, and Lucite are recommended to add interest to the space.
Play with Light
Without a window, you usually have vertical light coming from above. Naturally, windows bring in horizontal light, so you want to mimic the effect. You can achieve this by installing wall fixtures or sconces close to the vanity.
Mirror, Mirror on the Wall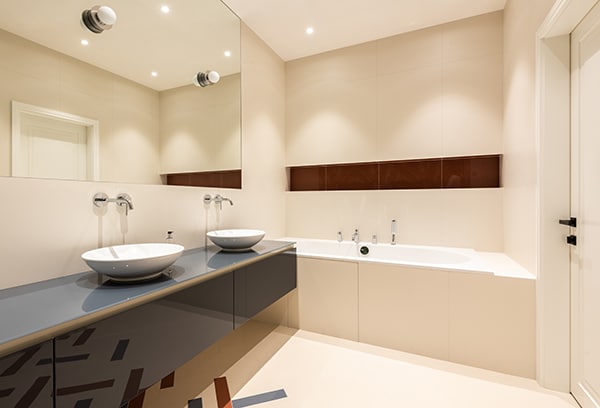 Not only are mirrors an excellent medium to bounce light, but they also help create an illusion that expands the space. The larger, the better.
Hope you like these tips! More expert-approved tips on enhancing other parts of your home only by lighting here.