Latest Trend: Bamboo in the Home
Bamboo in your home? Believe it or not, many homes now have been opting bamboo in the home as a design element or material. Why use bamboo? Bamboo is an eco-friendly, sustainable material great for building structures and it's cheaper than wood. Here in the United States, it just recently gained popularity as a design material inside homes though it has been used for hundreds of years as a building material in most part of the world. Bamboo has natural strength, and it is sturdy; this characteristic makes it great for building use. It also grows quickly as it takes just a few years to grow, rather than trees that take decades. Bamboo is making its way into more home interiors and exteriors. Below are the most popular uses of the bamboo as a material in the home.
Gold bamboo is particularly hot for home accents such as coffee tables

Bamboo is a popular landscape material and for added privacy

Bamboo textured walls can add a focal point to a space

Bamboo flooring is an alternative wood flooring and comes in many different color variations.
For more info, check out the infographic below.
Source: California Association of Realtors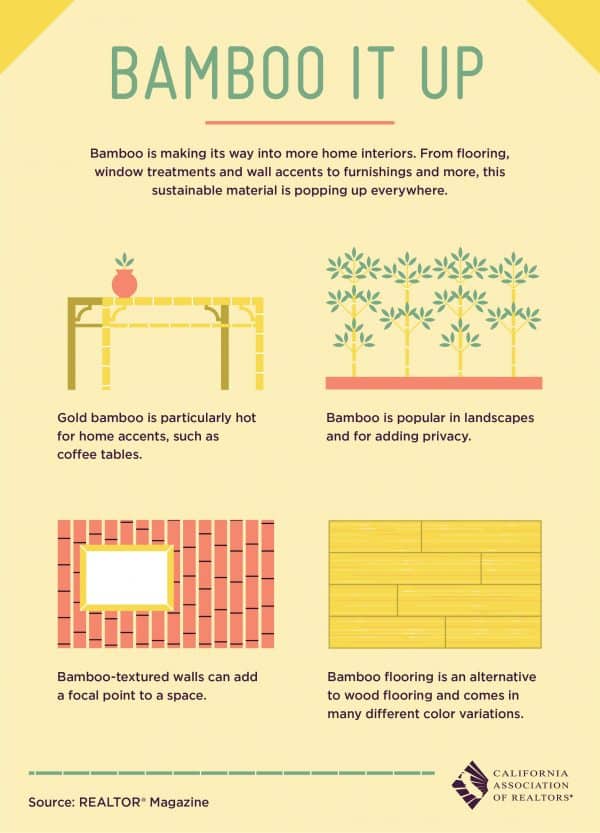 We can help sellers throughout San Diego North County and beyond to avoid foreclosure and walk away from their home without having to pay a penny, and without having their credit ruined by foreclosure or bankruptcy.
Some of the communities we serve are Encinitas,  San Marcos, Carlsbad, Oceanside, Escondido, Rancho Bernardo, Poway, Vista, Valley Center, Fallbrook, and surrounding areas.